Best Office Clean Out Services in Palm Beach County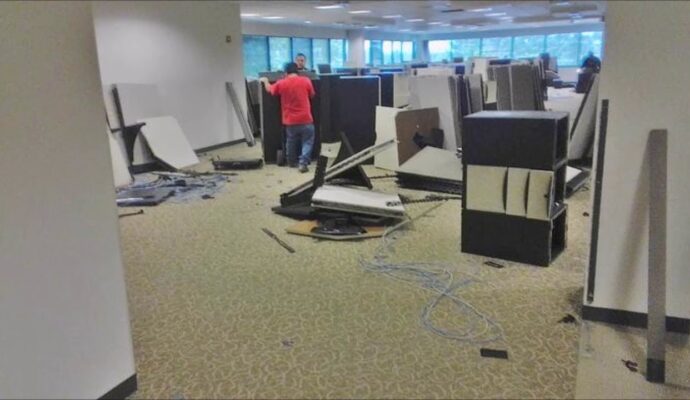 Office cleanout mainly involves getting rid of unwanted files or materials from offices but on a large scale. The process gets carried out because of various reasons from freeing up space to getting new equipment and getting rid of the old ones.
Office clean-out is very common nowadays. This is due to the increased activities in offices which leads to so many waste materials getting produced in the long run.
If not, the increased activities in offices lead to wear and tear of offices equipment warranting a replacement and getting rid of the existing ones. In such a case and especially when these two happen at the same time, office cleanout becomes the only solution to restoring the office.
Even though an office clean-out process might sound easier, it should be conducted meticulously. This is because offices contain some confidential information that if mishandled might even lead to some problems. With that in mind, it will therefore be very essential to consider keenly the right people to carry out this task. Most preferably you should go for a reputable company that has been carrying out this process for a considerable period of time.
Below are some of the factors to consider when looking for a company to carry out the office clean-out process.
Experience
---
Office cleanout is by no means an easy process it is complicated and especially when the office setting is a bit unique. An experienced company will come up with more than just one way of carrying out this task.
They will know where to start and where to end. For instance, if the whole process involves moving office files and equipment. The company will decide what to start with and what to do last. They can start by removing the heavy equipment fast before eventually getting rid of the files.
Speed of work
---
Offices are places of work. The clean-out process ought to be conducted within the shortest period of time to restore the normal operation of services. The company you select for this job should demonstrate the ability to undertake the task within the shortest time possible. In some cases, division of labor plays a role where the supervisor will be able to assign different people different tasks. Those that are best at moving office equipment will be allowed to do so while those that are good at files will also be allowed to do so.
Professionalism
---
Offices are very sensitive places and as such, they should be treated with a lot of care. The company you choose for the role of office cleanout should just focus on conducting their job and avoid any other things or activities. There are incidents where people contracted to clean offices out of curiosity opened important and confidential files leaking sensitive information in the process. This should be avoided at all costs. Your preferred company should only focus on their job and in some cases should work under instructions.
The cost of the whole work
---
Office clean-out should not last more than one day. The company you choose to hire should be able to negotiate with you the right mode of payment for the job. The best mode of payment would be on an hourly basis. However, even in this case, you should be very careful. When companies charge you on an hourly basis they might deliberately work slowly to prolong the working duration in order to make more money in the process.
Before awarding the contract, you should be able to ace the workload and estimate the maximum period that can be taken to carry out the whole work. This will help you to set targets with your company in order to avoid additional costs.
The above-mentioned tips are some of the top benefits of hiring our company to carry out the office clean out job. If you need to carry out this process within the shortest period of time and in the best way possible, contact us for further assistance.
Palm Beach Dumpster Rental and Junk Removal Group is the top company for junk hauling. The company offers the following services:
Here are our additional services throughout Palm Beach
We service all of Palm Beach. Below is a list of cities most of our services are at on a daily basis: