Best Construction Debris Removal in Palm Beach County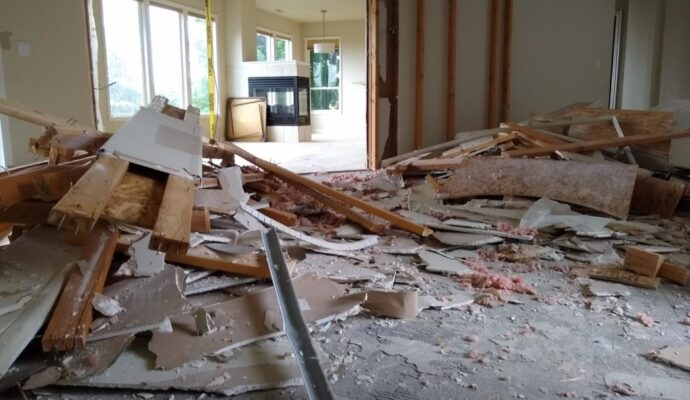 The excitement after construction must not be destroyed by the hassle that construction debris cause. Construction means those materials resulting from the alteration, construction, destruction, rehabilitation, or repair of any man-made physical structure including houses, buildings, industrial or commercial facilities, and roadways. 
Construction debris can be one of the following:
– brick, concrete, and other masonry materials

– stone

– glass

– wall coverings

– drywall

– framing and finishing lumber

– roofing materials

– plumbing fixtures (toilets, sinks, water heaters, pipes)

– heating equipment (furnaces, ductwork)

– electrical wiring and components containing no hazardous fluids or refrigerants

– insulation

– wall-to-wall carpeting

– asphaltic substances

– metal incidental to any of the above

– weathered railroad ties and weathered utility poles
We are a dumpster and junk removal company that is fully licensed and insured. This is important any time you are hiring a company to remove heavy or sharp construction debris. We are also able to sort, load, and properly dispose of all those materials in the most eco-friendly way possible with all the labor included. We can give you free estimates of the price of the work needed to be done. You can call us or visit our office for more information. Do not hesitate to tap our expertise because we are ready to help you. Our staff is professionals. They can be of help with any of your dumpster and junk problems.
We are a solution provider to our customers. You do not have to worry. We will make your estate cleaner and safer. Our professional team can do this for you. You will surely get the satisfaction that you needed. All you have to do is call or visit us in our office. We are located near you, so you do not have to worry about accessibility. Our company has a positive rating from our customers, thus, we can guarantee you that we will perform with utmost efficiency and responsiveness. Hurry and grab the opportunity of being our partner!
Palm Beach Dumpster Rental and Junk Removal Group is the top company for junk hauling. The company offers the following services:
Here are our additional services throughout Palm Beach
We service all of Palm Beach. Below is a list of cities most of our services are at on a daily basis: