10 Yard Dumpster Containers & Services in Palm Beach County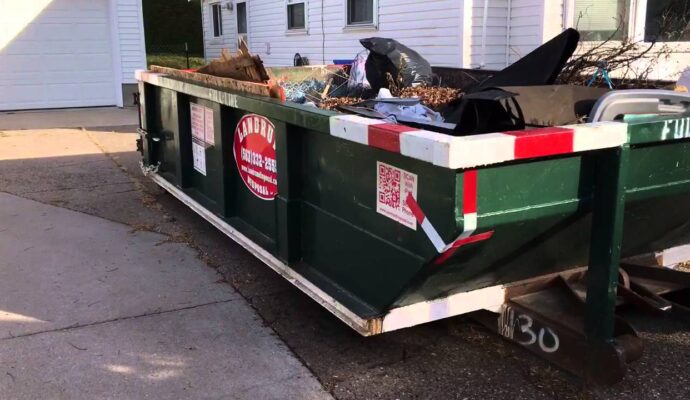 The 10-yard containers have the highest demand in the market. The typical outside dimension of this equipment is 10 ft. long by 8 ft. wide, by 4 ft. high. If you feel that your junk can fit in this container, it will be an ideal solution to buy or rent. The maximum volume of this dumpster is ten cubic yards. You can use it in both commercial and residential places. The practical conversion of this container is four pickup trucks or 8 ft. beds.
The 10-yard containers have the smallest size in the market. The equipment is ideal for small construction or cleanout projects. If your project is significant, you have to go for the other big yard containers. You can also use these containers for restroom or single-car garage remodeling. The equipment will serve you quite well in tasks that are quite similar to these.
The beauty of 10-yard containers is that they have a smaller painless loading and placement. Therefore, you will not require a lot of human resources to upload them to the trucks. Besides, there is no need for the use of special equipment in loading. It is a task that you can do by yourself.
One thing that a reliable dumpster company like Palm Beach Dumpster Rental and Junk Removal Group values is that customers have different needs. You cannot assume that all customers who knock at the door need large dumpsters. It does not make any economic sense to give a customer who needs a 10-yard container a larger dumpster.
It explains why dumpster companies add 10-yard containers to their inventory. It is an ideal solution for small DIY home renovation projects. If you are undertaking a small to a medium-sized home remodeling project, this dumpster can be a perfect fit.
How much can you fit on the 10-yard container? Any rational customer will ask himself this question before making a purchase decision. These dumpsters hold ten cubic yards of waste material. Therefore, you need to evaluate the volume of the trash before renting any equipment. For a better understanding, the capacity is close to four pickup trucks.
Some companies will also offer you 10-yard heavy boxes that are perfect for concrete disposal. You need to be careful with the construction material of the dumpster. You don't want to use the dumpster for the wrong purposes. The challenge is that you may end up destroying the equipment and meeting the liabilities. Therefore, it is advisable to tell the company how you will be using the container before making a payment. The company will give you a dumpster that is a perfect match for your needs.
Several companies offer 10-yard containers in Palm Beach. However, you have to make sure that you get services from the right brand. A responsible brand will have clean and well-maintained equipment. It shows that the company values its work. The fact that you are dealing with trash does not imply that your containers should be dirty.
Also, compare the prices that various companies offer for the 10-yard containers. Remember, to make this comparison in line with the quality of services that you will receive. The most important thing is to get value for your hard-earned income. Look for a dumpster company that offers high-quality services at the most competitive rates. Palm Beach Dumpster Rental and Junk Removal Group has the best deals in the market.
Palm Beach Dumpster Rental and Junk Removal Group is the top company for junk hauling. The company offers the following services:
Here are our additional services throughout Palm Beach
We service all of Palm Beach. Below is a list of cities most of our services are at on a daily basis: